Celebrities and stars who play guitar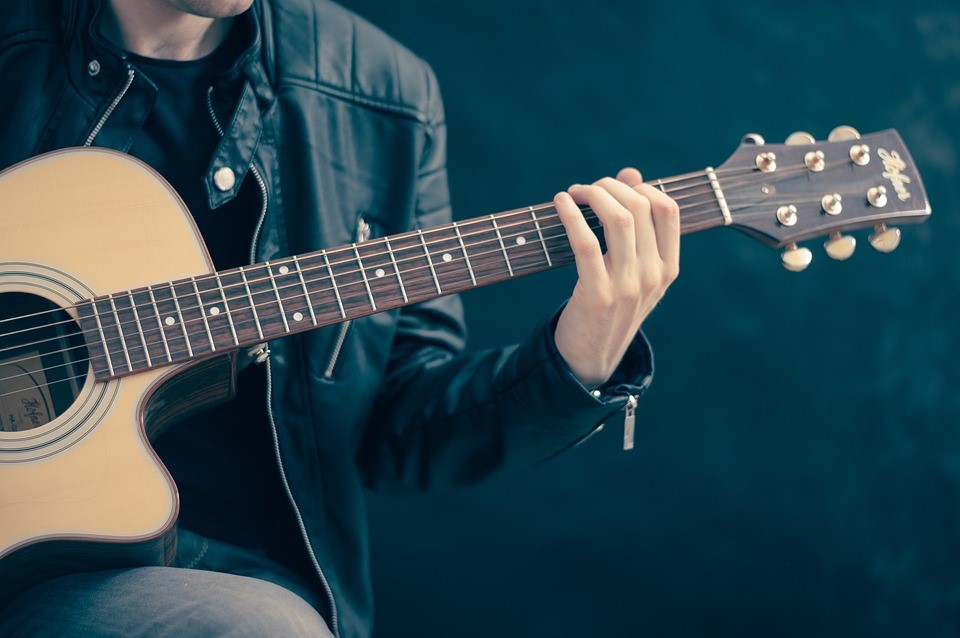 Strumming a guitar has been one of the coolest things to be seen doing for the last 100 years. From Django Reinhardt's gypsy jazz to Jeff Beck's creative rock, guitar playing has been at the forefront of musical innovation – and style.
Playing guitar simply looks good. And if you're any good at it, playing guitar feels good too.
We don't know whether they do it to look good – or feel good, – but many stars from showbiz are secret guitar players too.
Stars as varied as Johnny Depp, Kris Kristofferson, Jeff Goldblum and Hugh Laurie have made headlines for their musical output. But plenty more are unknown guitar pickers.
We've selected the best guitar playing celebrities who you may not realise are musicians at all.
Jack Black
The comedian and actor, who starred as the 'School of Rock' teacher wasn't just acting.
Jack is an accomplished guitarist and showed his singing skills too in his debut music movie 'High Fidelity'. He even has his own band, a duo called Tenacious D.
Adam Sandler
The comedy film star and screenwriter is famous for relaxing off-screen by playing hands of Texas holdem poker. But did you know that he also plays electric guitar and sings?
He recently revealed his skills when he played Stairway to Heaven on Conan O'Brien's talk show.
Adam once played a cover of Neil Young's 'Like a Hurricane' on a compilation album and performed it live on the Dave Letterman Show.
Terrence Howard
American actor Terrence Howard has starred in movies like 'Dead Presidents', 'Iron Man' and 'Mr Holland's Opus'. He was even nominated for an Oscar after appearing in 'Hustle and Flow'.
But did you know he is also a guitar-playing singer too? He has even appeared in music videos with Madonna and Mary J Blige.
Kevin Bacon
The Footloose star was previously a waiter in a New York café. He has since won numerous awards for TV and screen acting.
And in his spare time Kevin is a keen acoustic and electric guitarist. He often joins his brother singing and playing in the Philadelphia band The Bacon Brothers.
He can be seen on Instagram singing to his pet goats and the Bacon Brothers have even released seven albums of their songs.
Ricky Gervais
The comedian, writer and actor has shown off his singing and playing abilities in some of his shows. But it has tended to be used ironically, rather than seriously showcasing his talents.
But Ricky is actually an accomplished finger-picking acoustic guitar player and was in bands before he became an actor.
His 'Office' character David Brent even has a YouTube video 'Learn Guitar with David Brent'. "I want to teach you to teach yourself," he tells viewers with one of his trademark smirks.
Zooey Deschanel
American actress Zooey Deschanel has appeared in movies like 'Elf' and 'Almost Famous' and TV shows like New Girl, for which she won a Golden Globe.
But Zooey has another life – as one half of musical duo, She and Him, with songwriter M. Ward. She sings, plays guitar, keyboard and ukelele.
The duo has released seven albums and received a Grammy nomination.
Tim Robbins
Shawshank escapee actor and film director Tim Robbins has won an Academy Award and two Golden Globes for his performances.
But did you realise that he is also a guitar-player, songwriter and proud folk musician. On his website, Tim credits musicians like Woody Guthrie and Joni Mitchell as his inspirations.
He and his group, Tim Robbins and the Rogues Gallery Band, have been long standing musical performers in small venues. In 2010 they even produced a CD.
Ryan Gosling
LaLa Land showed us that actor Ryan Gosling can sing and dance. But when he's off screen Ryan also plays electric guitar and bass in a band called Dead Man's Bones.
The band has been going for 15 years and has played on several movie soundtracks.
Kevin Costner
Hollywood movie star Kevin Costner is instantly recognisable in many major big screen roles – but he also plays guitar in a country band.
When he isn't starring in a blockbuster, Kevin sings and fronts a small touring band called Modern West.
Russell Crowe
The Australian actor has sung in a few movie roles, including Les Miserables. But did you know that he plays guitar too?
In fact Russell has played in several bands since the 1980s. He currently plays and sings with an outfit called The Ordinary Fear of God.
From the outside these movie stars seem to live a charmed life – so it's great to see many of them enjoy all the hobbies and musical dreams of the rest of us.
Being a Hollywood star may appear to be a great life – but it seems all of us dream of being a guitar God too!