Unveiling the Heartbeat of East London: Exploring the Music Scene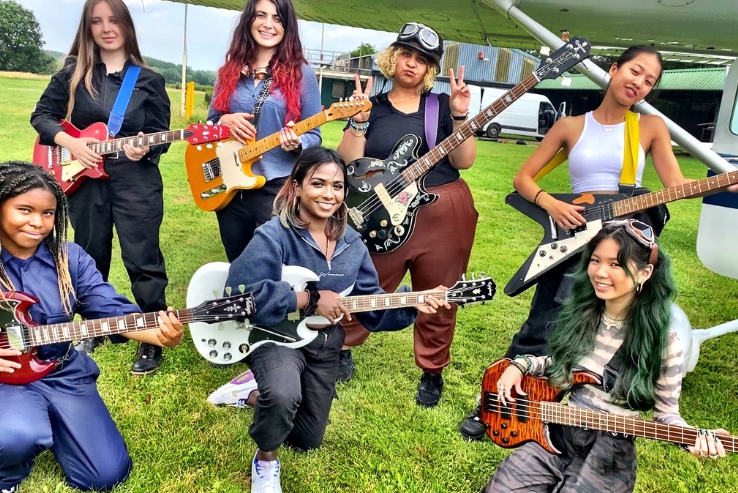 In the throbbing heart of East London's music scene, the vibrant district of Hackney thrums with an infectious vibe that is irresistible for locals and visitors alike. Live music bars in London are a creative hub of innovation, diverse culture, and bohemian charm, where emerging bands and established musicians come to be a part of London's vibrant live music scene. Venture down a winding alleyway or behind an inconspicuous door, and in true Hackney style, you're likely to stumble upon a hidden world of beats, voices, and authentic craft beers.
Top 5 Bars in Hackney, East London
1) Gigi's Hoxton, Hoxton Square
Nestled in the heart of Hoxton Square lies Gigi's Hoxton, an undisputed gem among the live music bars in London. This chic, boutique bar thrives in its celebration of the alternative, providing a lovingly designed space where guests can immerse themselves in an eclectic mix of live performances. Gigi's Hoxton not only symbolises the blossoming live music scene in Shoreditch but has become an emblem for music aficionados looking for a lively night out in the city. Here, the music is palpable, and a good night is guaranteed.
Beyond the realms of a top tier live music bar in London, Gigi's Hoxton taps into Shoreditch's vibrant aesthetic, echoing an aesthetic as unstudied and artsy as the district itself. It's here, amidst the enveloping murals and under the warm, low-hanging lights, where patrons come to appreciate live music.
2) Sebright Arms
The well-loved and bustling Sebright Arms is a fusion of cultural hubs – a vibrant pub, a beloved local retreat, and an electrifying live music venue. It's a melting pot of social interaction and musical exploration where camaraderie and creativity flourish, and appeal to anyone seeking the authentic East London experience.
The menu offers a selection of traditional and modern, whether you're partial to their legendary burgers, bespoke vegan delicacies, or the quintessential fish and chips – of which they do a truly commendable rendition – one thing remains constant: the quality and flavour of their dishes.
Complementing their standout menu is an extensive list of beers. From refreshing drafts to a rich range of casks, their offerings are perfect for toasting to a night of evocative melodies. Plus, if you're into craft beer, the rotating selection allows you to embark on a boozy journey of discovery, sampling some unique brews while swaying to the rhythm of the music.
Hidden below the welcoming pub on the ground floor is a haven for music enthusiasts. This unique arrangement allows Sebright Arms to provide an intimate setting for both casual social gatherings and spellbinding live acts and features a robust calendar of performances that cater to a wide spectrum of music genres.
3) Luna Live Music
Filling the quaint alleyways of Hackney with an irresistible mix of pop, rock, and soul, Luna Live Music is a beacon of vibrant energy amid the historic charm of the district. By day, it is a characterful traditional pub, exuding a warm and inviting atmosphere with its rustic charm and wide assortment of beverages. By night, Luna metamorphoses into a lively music haven, offering an electrifying escape from the common bustle where raw talent meets good music.
Luna's hospitable staff are ready to serve you from their extensive drink list. Whether you prefer a classic pint or are in the mood to try a new craft beer, Luna caters to all tastes. Moreover, the kitchen churns out delectable and hearty pub fare that complements the mood of Luna. Luna is a hub of cultural exchange and musical exploration, where fans, performers, and first-time visitors all converge.
4) The Old Blue Last
Originally a quintessential Victorian pub, the charismatic Old Blue Last, now transformed, has established itself as a historic cornerstone of Shoreditch's live music scene. It radiates a sense of nostalgia and tradition intertwined beautifully with modern energy.
It has witnessed energising performances from countless artists strumming their first chords on stage and has served as the steppingstone for many musicians who have now graced world stages, earning Old Blue Last an indomitable position in London's music history. The Old Blue Last demonstrates a devotion to community engagement, fostering a strong sense of camaraderie amongst its patrons. The popular Open Mic nights are testimony to this, where hopeful musicians share their music and passion with the crowd.
The bar itself serves a fine selection of craft beers and ales. The combination of carefully curated live performances, charming historic ambiance, and quality refreshments blend splendidly to create an unforgettable musical experience. Venture into the welcoming embrace of The Old Blue Last, and you'll find more than just a pub.
5) Old Street Records
The sophisticated yet unpretentious Old Street Records is a captivating venue that effortlessly transitions from a relaxed cocktail bar by day to a bustling hive of live music by night. Patrons can indulge in an assortment of themed DJ nights, offering a myriad of experiences from the nostalgic beats of the 80s to the dubstep-infused tunes of the 21st century. Exclusive EP launches often grace Old Street Records' stage. Additionally, the raw energy of spontaneous music sessions fills the space on a regular basis, making for nights that are as unpredictable as they are unforgettable.
Old Street Records has also become renowned for its eclectic concoctions, inviting patrons to savour a range of imaginative cocktails crafted by expert mixologists. Each sip is a testament to the venue's commitment to quality and innovation, mirroring the vibrant rhythm of the music they endorse. This unique blend of tantalising drinks, rhythmic beats, and infectious camaraderie marks Old Street Records as an engaging cornerstone in East London's music scene.
Conclusion
In the character-rich lanes of Hackney, amid its creative spirit and rhythm, East London has become the thriving hub of London's live music scene. Whether you are a music enthusiast or someone looking to immerse in the nightlife of the capital, the bars in Hackney offer a panoramic view of the music offerings, from Gigi's Hoxton for the alternative lovers to Sebright Arms and Old Street Records for the rock 'n' roll souls. So, tune in to the heartbeat of East London, where every bar tells a unique story through music. Whether you're a steadfast music devotee or a spirited explorer looking to delve into the capital's vibrant nightlife, an exploration of the array of bars in Hackney guarantees you'll uncover that all important heartbeat of the city.